Data Protection is still a key focus for most businesses especially given the rise in remote working. Security is an ever evolving and changing landscape but the focus on Data Protection is always a steadfast. Below are the results from a survey conducted by our partner Veeam on Data Protection Trends for 2022.
Why will organizations change backup solutions in 2022?
The short answer is qualitative improvement — e.g., reducing data loss, reducing downtime, improving reliability of backups (so you can restore), etc. Literally, the top reason making organizations interested in changing backup solutions is so that it works better! Beyond that, businesses are concerned about economics, best-in-class tools for protecting the increasingly diverse production workloads and platforms that organizations rely on, and so on.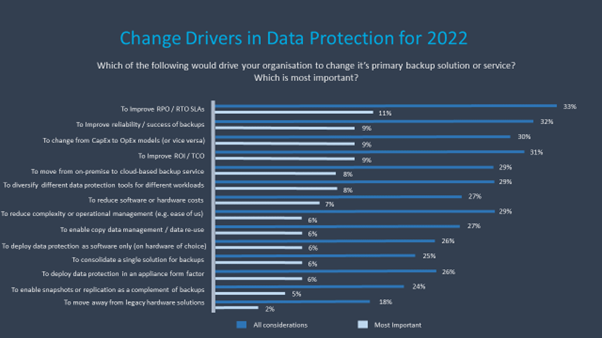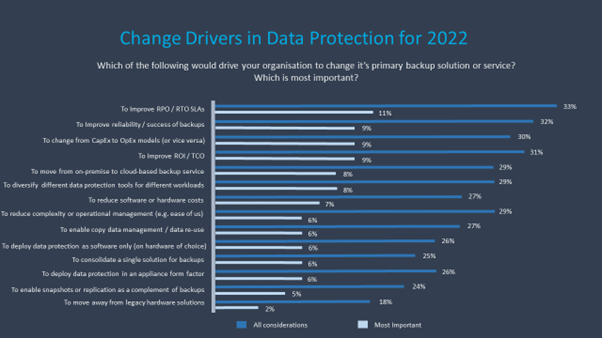 What are organizations looking for in their next data protection solution?
If the last topic covered where organizations are coming from, this covers where organizations are going — with an emphasis towards hybrid architectures for both protection and production. As a happy surprise, one of the up-and-coming responses (having asked this question for the last three annual surveys) was customers looking to move workloads from one cloud to another, which is only achievable with a third-party solution (like Vault365), since that isn't a goal of the hyperscale clouds.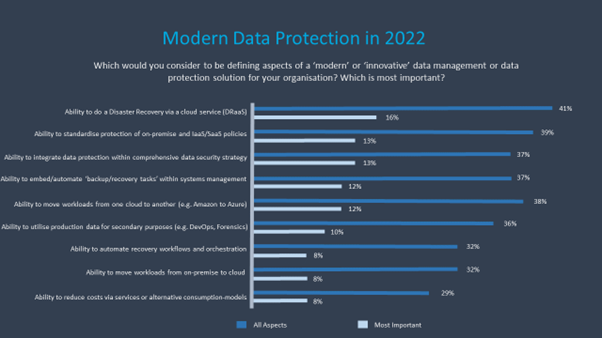 We hope these first two topics have been helpful. This post is the first part of a multi-part series, so please stay tuned to the Vault365 blog:
Part 1: What is driving change & what are organizations looking for moving forward
Part 2: Hybrid Infrastructure Trends from 2020 to 2024
Part 3: Data Protection Trends in Public Sector
Part 4: What does "Enterprise Backup" mean in 2022?