Veeam recently published the latest and largest research report on data protection, as surveyed by an independent research firm with nearly 3,400 responses from 28 countries. If that was big – this is bigger: 8,000 responses between the DPR 2020, DPR 2021, and now the DPR 2022 reports.
For each of the three research reports, respondents in enterprise organizations (> 1,000 employees) were asked what percentage of their servers were:
Physical servers, not including virtualization hosts, within a data center
Virtual machines within a virtualization host within a data center
Cloud-hosted servers within either a Managed Service Provider or a hyperscale (e.g. Amazon, Azure, Google) cloud
Then, they were asked what they anticipated the percentage to be two years from now. When you interleave the three datasets, you get a massive trendline from 2020, 2021, 2022, as well as what was anticipated by 2023 and what is expected by 2024. Below image shows the trendline for 8,000 organizations and their hybrid strategies: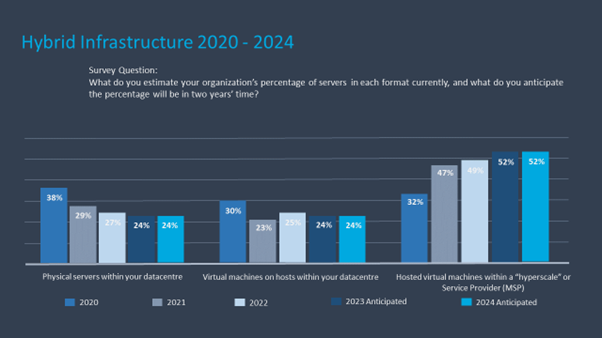 Candidly, we have rarely seen such a large data sampling on a pragmatic IT strategy question – especially with the "shape" (trend) of the data being reported so consistently across three large and separate data sets. This teaches a few key truths for 2022:
The data center is not dead nor dying. There are as many good reasons to run a workload on premises as there are to run workloads on the cloud.
Your data protection strategy needs to accommodate physical, virtual and multiple cloud-hosted options.
So many organizations recognize that "hybrid" and "multi" cloud are "the new normal" for organizations of nearly every size and locale.